:::
News about the County Government
---
Exciting drones and fire dance performed in Nantou Lantern Festival (Feb. 3)
Bureau:Nantou County Government
Date:2020/3/17
    On February 3 (the 15th day in the 1st lunar month) drones performed an exciting show, making patterns that depict 2020, Nantou, house musk shrew, heart emoji, and lanterns in the air at the Lantern Festival. The fantastic water dance was performed in the water, and there was also an air and water show. It brought audiences endless surprises with its amazing visual effects. The ComingTrue Fire Group that performed in the festival for the first time, and the night glittering dragon dance troupe of Yingbei Junior High School that had won many awards and was invited to perform in many major events, and the superb dances of Chia Ying Dance Arts Center brought the festival to its climax.
    Starting from February 1, the special programs of the Nantou Lantern Festival will be performed for 10 days from 7:00 pm at Nantou Lantern Festival Water Dance Square. In this year, the Nantou County Government has invited the local ComingTrue Fire Group dance troupe, that had previously performed in the Lunar New Year Special Program on CCTV, to perform in the festival. With their rhythmic movements, the professional dancers spit fire into the night sky. In this year, they used steel wool to create fire spray with a meteor rain effect. Their show excited the audience in the venue.
    In each year, Nantou Lantern Festival invites international class performance groups from China to perform in the event. It has become the most anticipated Lantern Festival event in Taiwan. In observance of the COVID-19 control measures, the scheduled "Fire Dragon" show has been canceled. Instead, the fantastic water dance and drone show is being performed as a replacement. The whole new drone show "Flying Mice Water-Air Show" uses colors and movements in the air to arrange various New Year patterns in the air, charming the audiences.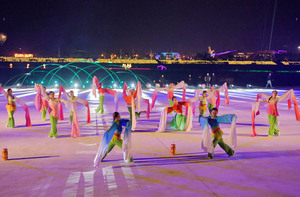 transaction date: 2020/3/17