:::
News about the County Government
---
Zi Nan Temple Ding wine attracted 100,000 people to share the peace (Feb. 9)
Bureau:Nantou County Government
Date:2020/3/17
    The annual grand event of the Zi Nan Temple, "Drink Ding wine and share peace," was held on February 9. The temple prepared free meat and vegan Ding wine, stir-fried noodles, rice, mochi, and taro cakes for 100,000 people. Worshippers coming from different places of Taiwan packed the venue early in the morning. The event was as splendid as that in the last year. Accompanied by the Chairperson Chuang Chiu-an, counselor Tsai Meng-e, and Magistrate Chen Tung-mu of Zhushan Town, Magistrate Lin Ming-zhen of Nantou County participated in the event to serve people. They helped fill up the wine glasses of the worshippers in the line and share joy with all the participants there.
    Magistrate Lin said the traditional culture of eating Ding wine at Zi Nan Temple has a history of more than 200 years. Worshippers coming from different places in Taiwan will come on the 16th day of the 1st lunar month to eat Ding wine and pray for peace. In this year, with the outbreak of COVID-19, Zi Nan Temple paid exceptional care in precautions. They disinfected the venue in advance. Today, they prepared two disinfecting procedures with alcohol spray for the participants, who also wore surgical masks voluntarily. The order and preventive measures were executed properly, both of which allowed people to eat the peace-bringing feast with peace of mind. Gratitude was given to Chairperson Chuang to prepare the feast to treat the worshippers generously. It was hoped that after eating Ding wine, people could be healthy, do well, and enjoy complete wellness in life.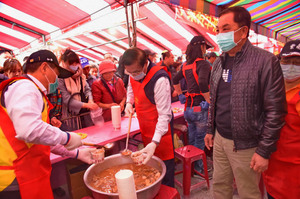 transaction date: 2020/3/17