:::
News about the County Government
---
Glamourous lanterns and an exhilarating fire dance attracted 4 million visitors in 21 days to Nantou Lantern Festival (Feb. 9)
Bureau:Nantou County Government
Date:2020/3/17
    The 21-day 2020 Nantou Lantern Festival came to a grand finale with the closing ceremony in the evening on February 9. Magistrate Lin Ming-zhen announced that because of the threat of COVID-19, the performance of Fire Dragon Dance was canceled, and the fire dance, water dance and drones show would be performed instead. It still attracted 4 million visitors to the venue, being both bustling and successful. It is hoped that there will be more enterprises sponsoring the festival and the Fire Dragon from Chongqing will be here to perform with the fire dance next year, recreating another climax for the Lantern Festival in Lunar New Year.
    Magistrate Lin said that the Fire Dance performance and lantern exhibition from friends city originally scheduled in the festival, due to the issue of COVID-19 this year, were canceled. Nevertheless, with the enthusiastic participation of the communities and enterprises' support, the lanterns exhibited and shows performed were more exciting than those of the last year. The performance of local groups and fire dance were also exhilarating, amazed visitors in the venue. On the day of the Lantern Festival, in addition to 3000 servings of peace glutinous rice balls sponsored by Fo Guang Shan Monastery, the additional firecracker show drove the festival to a climax.
    In the closing evening gala, in addition to the exciting performances, to thank the sponsors and communities participating in the exhibitions, Magistrate Lin presented them with certificates of gratitude. He also counted down the closing of the last main lantern show with the guests together, making a perfect ending for the 2020 Nantou Lantern Festival. Magistrate Lin also promised to meet visitors again in the 2021 Nantou Lantern Festival. After the gala, Magistrate Lin and Deputy Magistrate Chen Cheng-sheng presented lucky packets, fortune tortoise-shape cakes, and small lanterns to visitors that queued up in a long line. Visitors also took the opportunity to take photos with Magistrate Lin, leaving good memories for the Nantou Lantern Festival.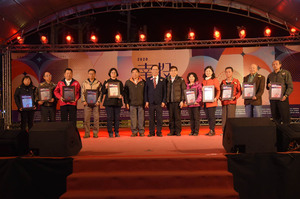 transaction date: 2020/3/17