:::
Main activity
---
The development of five industrial parks brings great benefit. County Magistrate Lin anticipates good results in the post-pandemic era, August 17
Bureau:Nantou County Government
Date:2021/9/17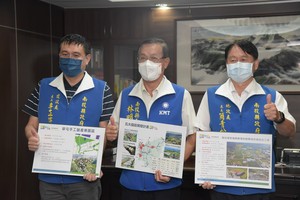 The construction of the five industrial parks developed by Nantou County Government, including Wang-Lai Industrial Park and Puli Fuxing Hot Spring, is starting to yield good results. The benefit of the development is expected to be more than NT$ 12.3 billion. Furthermore, on the 17th, County Magistrate Lin Ming-Chen said that after deducting construction costs, it is expected to bring NT$ 4.2 billion in revenue to the county treasury, along with stable tax revenue in the long term, and most of all, it will create job opportunities and push forward regional development. Even though he will be leaving the position in a year or so, Lin is happy for such results.
County Magistrate Lin says he has been in the position as Nantou County Magistrate for more than 7 years, and the county government has continued boost the income and rein in spending, reducing the county government's debt by NT$ 6.5 billion. The debt of Nantou County Government was NT$ 16.7 billion in 2014, but now it is approximately NT$ 10.2 billion. For the purposes of local construction and creating multiple sources of income, the county government is dedicated to the development of the five industrial parks, of which the Puli Fuxing Farm Development Project, Nantou City Wang-Lai Industrial Park, and Puli Miniature Industrial Park have been completed, and the land is for sale by tender one after another. It is expected that the development of the five industrial parks will bring NT$ 4.2 billion in revenue to the county treasury, create job opportunities, and push forward economic development.
County Magistrate Lin believes that the industrial parks developed by the county government will push forward regional development in the post-pandemic era. He takes the Puli Fuxing Farm and Hot Spring Development Project as an example, saying that the construction must be carried out within 3 years after the land for hotels is sold. In other words, the demand for construction materials and manpower in Puli will increase greatly within 3 years because of such construction, which will become a foundation of growth for the region.
Lin also says the construction of Nantou City Wang-Lai Industrial Park, Puli Miniature Industrial Park, and factories invested by the public will be carried out one after another as well. The demand for materials and manpower in relevant construction and the following development are promising. Lin appreciates the efforts of the county government's team as there won't be such an achievement without them.