:::
Hot News
---
County Magistrate Lin presents awards to outstanding farmers in the 2021 Winter Taiwan Best High-mountain Tea Competition, December 11
Bureau:Nantou County Government
Date:2022/1/14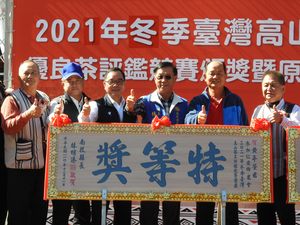 On the 11th, the Ren'ai Township Farmers' Associations held the awards ceremony of the 2021 Winter Taiwan Best High-mountain Tea Competition and praised outstanding farmers, with the participation of County Magistrate Lin Ming-Chen. Lin gives affirmation and says that the Ren'ai Township Farmers' Associations won second place in the national joint distribution of vegetables, fruits and agricultural products and the 4-H business and that the DGIYAQ BALE Best High-mountain Tea that they promote is of the highest quality. Lin recommends people and tourists from all over the country to visit Ren'ai Township, in which famous scenic spots such as the Qingjing Farm and Hehuanshan are located and buy good tea and various high-quality agricultural products.
Due to the pandemic, the Ren'ai Township Farmers' Associations was forced to cancel the Spring Best High-mountain Tea Competition, but it did not affect the willingness of tea farmers to participate in the competition. The number of entries for the Winter Best High-mountain Tea reached 642, an increase of 31 over last year. Under strict judging standards, about 45.6% of them were eliminated, that is, 293 entries. As a result, the quality of good tea awarded with the excellent prize is better than ever.
According to the Yuch'ih Sub-station of the Tea Research and Extension Station, due to the low temperature before spring and the lack of rainfall in spring this year, tea plants in the high-mountain tea area in Ren'ai Township suffered from damage to the root system, resulting in poor nutrient absorption. Therefore, the output of winter harvests in some tea areas slightly decreased. But the output in the areas with sufficient water sources and normal fertilization remained stable or even increased. During winter harvests, the climate was stable, which has a positive effect on the quality of tea production. The overall quality of the tea from winter harvests is stable. The sweetness is good, with a refreshing taste. Occasionally, due to climatic factors in the first half of the year, the taste of the tea is not thick enough but mild, but it does not affect the overall quality.