:::
News about the County Government
---
Dark-Sky Park Received NT$15 Million for Facility Improvement – Nantou County Government Collaborates with Civil Society to Aggressively Promote Tourism (Mar. 10)
Bureau:Nantou County Government
Date:2020/4/22
    The tourist service and dark-sky environment of Hehuan Mountain Dark-Sky Park will further improve! Nantou County Government has received the subsidy of NT$15 million from the Tourism Bureau to improve the tourism hardware and facilities. After Magistrate Lin Ming-zhen surveyed Kunyang on-site on Mar. 10, under low temperature and heavy rain, he then went to Cingjing to discuss with local civil societies and vendors. The magistrate decided that the direction of diverging promotion and development will be taken on Kunyang and Yuanfeng, two of the best stargazing locations at Hehuan Mountain Dark-Sky Park. Nantou County Government will also collaborate with the civil society and astronomical teams in providing professional stargazing guidance and services.
    Magistrate Lin pointed out that among the 5 popular stargazing locations of Kunyang, Yuanfeng, Song Syue Lodge, Xiaofengkou and Wuling at Dark-Sky Park, Kunyang and Yuanfeng have the best circumstances in providing tourist services and setting professional stargazing equipment such as astronomical telescopes. After assessments made by the Department of Tourism along with Cingjing Sustainable Environment Development Society and consultant team from National Central University, Yuanfeng will be developed into a stargazing location for popular tourists while Kunyang will provide professional world-class level stargazing equipment and guide services.
    Magistrate Lin mentioned that environment maintenance and the improvement of tourist services is very important given that Hehuan Mountain Dark-Sky Park is the only globally recognized dark-sky park in Taiwan. The successive plans for its 3 stages of constructions will all fully inquire opinions from civil societies and academic groups. He expected to fully integrate improved facilities with professional tourism facilities added in the near future, such as astronomical telescopes, how the roof should be rebuilt in creating stargazing windows and other issues, in order to create charm and value that can attract stargazing citizens from all walks of life.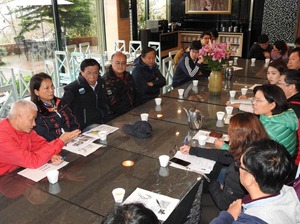 transaction date: 2020/4/22