:::
News about the County Government
---
Puli Junior High School and Chi Nan University win the National Women's Softball championship, and County Magistrate Lin presents awards and commendations, April 8
Bureau:Nantou County Government
Date:2021/5/17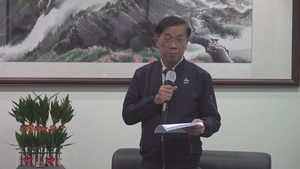 The Nantou Puli Junior High School women's softball team and the National Chi Nan University women's softball team won the championship of the 2020 National Junior High School Women's Softball League and Universities and Colleges Women's Softball League respectively in March of this year. On the morning of the 8th, County Magistrate Lin Ming-Chen awarded certificates to congratulate the contestants for their outstanding achievements in the county magistrate office. He hopes that the students will continue to practice their skills and strive for more glory for Nantou County every year.
On the day of the event, the county magistrate presented certificates and bonuses to the contestants one by one, and the players presented an autographed softball and a commemorative jersey to the county magistrate. Chairman Pan Yi-Chuan of the Nantou County Sports Association, County Councilor Chuan Wen-Tsai, Secretary General Chang Chia-Hsing of the Chinese Taipei Amateur Softball Association, Director General Hung Ming-Hui of the Nantou County Sports Association, Director Lu Cheng-Wei of the Department of Education, Principal Mai-Shu Ta-Chi-Lu-Tun of Puli Junior High School, and the coaches were all present to congratulate the contestants.
The Puli Junior High School team that won the championship this time was founded 29 years ago and won 14 national championships. In the 2020 National Junior High School Women's Softball League, they defeated Beitou Junior High School 8-3 to win the championship, and once again dominated the league and won the 14th HSL championship since its inception.